Here Are Just Some of The Expert Interviews Available
Developing An Effective Global Pricing Capability
In this informative conversation with Lynn Guinn, the Global Strategic Pricing Leader for Cargill, learn about developing and maintaining a high-performance pricing function in one of the largest and most successful agricultural companies on the planet.
Are They a Price Buyer or a Poker Player?
It's easy to assume that when a buyer says they need a lower price, they really mean it. But making the wrong assumption can be very costly. Nelson Hyde explains how to tell when a buyer is bluffing.
Considerations for Pricing Through Channels
How do you get your arms around the various players in the channel and manage the links in the distribution chain? In this interview, we discuss channel pricing with Peter Maniscalco, a Senior Manager of Pricing at a major IT Products and Services company.
Developing Better Relationships with the Sales Team
Sales and pricing will rarely see eye to eye. Greg Preuer, Director of Pricing at Cooper Lighting, shares his experiences on how he's been able to work more effectively with the sales team.
Leveraging the Power of Price Segmentation
In this Expert Interview, Paul Parsons discusses his experiences helping a number of distributors and manufacturers leverage the power of segmentation to boost their margins and profits.
Stop Being Afraid of Procurement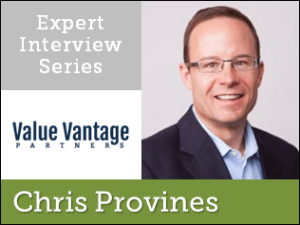 In this interview with Chris Provines, author of "Selling to Procurement", get an inside look at the goals and tactics of the purchasing people who are working so hard to get your salespeople to give up margin.
Closing the Skills Gap in Sales Negotiations
In this Expert Interview, Jason Levinson discusses the latest methods and innovations in negotiation training for salespeople. Closing the negotiation skills gap is not a hard as you might think!
Exposing the Truth About Value-Based Pricing
In this Expert Interview, Stephan Liozu discusses what it really means to practice value-based pricing in a B2B environment. And here's a hint --- there's a lot more to it than many would have us believe!
Exposing the Power of Price Elasticity in B2B
Price elasticity is incredibly underutilized and often misunderstood. Barrett Thompson explains the nature of price elasticity in B2B and how you can use it to set better prices with far less risk.
Exploring Four Different Types of Buyers
To win a negotiation without giving up too much, it's important to understand who's on the other side of the table. This interview with Nelson Hyde teaches you about four types of buyers --- how to identify them and how to deal with them.
Finding Your Path Toward Pricing Improvement
An insightful conversation with Andre Weber of Simon-Kucher & Partners about pricing improvement in B2B.
Methods of Measuring Value and Pricing Performance
Ever had a request for more resources or investment met with "what have you done for me lately?" In this Expert Interview, Erin Cihak and Peter Bloechle discuss multiple approaches for credibly demonstrating value and contribution.
How to Tackle Trade Tariffs
In this insightful conversation, Sean Arnold helps us sort through the issues and understand our options when addressing the latest addition to our list of pricing challenges: trade tariffs.
Fixing the Causes of Rogue Salespeople
It's all too easy to observe rampant discounting in the field and conclude that "rogue" salespeople are the source of the problem. In this expert interview, Paul Hunt exposes the real problems behind rampant discounting in the field.
Exploring the Future of the Pricing Profession
Pricing is a specialized function and it can be difficult to get a read on the health and status of where the field is headed. Kevin Mitchell of the Professional Pricing Association provides his perspectives on the state of the pricing profession.