Here are Some of The Many Resources In The Library
Four Ways to Get More Out of Pricing Analytics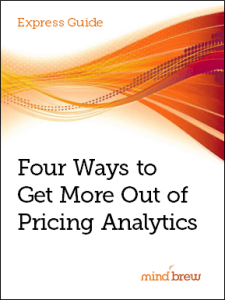 There's no doubt that pricing analytics can be powerful, but it's not a slam dunk. This guide explains four powerful strategies for producing more meaningful results from your pricing analytics efforts and investments.
21 Questions About Your Price Segmentation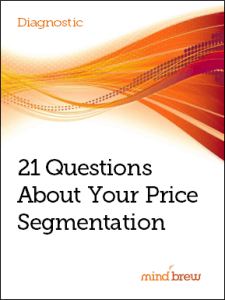 It can be difficult to know if your price segmentation model is as effective as it should be. This 21-point diagnostic assessment helps you measure how good your model really is and uncover potential areas of improvement.
Six Price Optimization Misconceptions Exposed
Price optimization can provide a significant competitive advantage for the companies that have adopted it. This guide explores the mistaken beliefs that could be costing you sales & margin dollars.
The Anatomy of a Successful B2B Pricing Analyst
What key competencies are most important for a B2B pricing analyst to have? This guide covers PricingBrew Network research into the 21 most important attributes, skills, and capabilities for B2B pricing analysts to develop or possess.
Four Ways to Be More Strategic In Pricing
In pricing, it's all too easy to get lost in all of the administrative tasks and tactical activities. This guide outlines four areas of focus that can help you become a much more strategic pricing professional.
Step-by-Step Competitive Analysis for Strategic Pricing
How to use competitive analysis to identify actionable opportunities to gain strategic advantage, expose competitive gaps, provide differentiation beyond price, and reduce the pressure to discount.
How to Get More Aligned With Sales
Taking a purposeful approach toward aligning more closely with the sales team can reap great rewards for pricing results. Learn five straightforward steps toward fostering a better working relationship with integrity.
Avoiding Five Margin-Killing MarCom Mistakes
A guide to common marketing communication mistakes that reduce your perceived value and pricing power.
How Strict Pricing Enforcement Killed a Product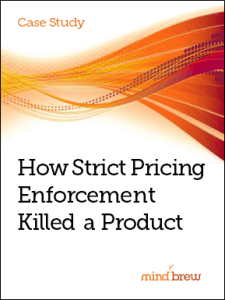 Strict enforcement of pricing policies can seem like a great idea. But this comical case study sheds some light on the perils of enforcing policies that are lacking (and somewhat ridiculous).
17 Customer Insights for More Strategic Pricing
Having a better understanding of your buyers can help make profitable pricing outcomes the natural result. This guide reveals 17 powerful customer insights that are proven to be beneficial for creating advantageous pricing conditions.
Avoiding Guesswork in Value-Based Pricing
Most value-based pricing initiatives aren't small undertakings--and shouldn't be left to trial and intuition. This guide outlines a proven research process that can get you started.
How to Crater a Market with Cost-Plus Pricing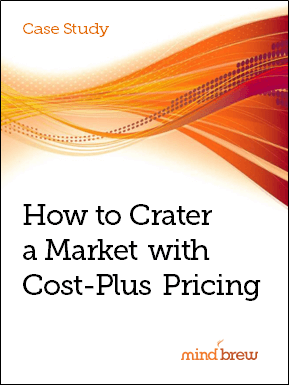 For one large manufacturer, cost-plus pricing was tantamount to malpractice. In this case study, learn how the lack of strategic pricing capability reduced the value of an entire market by over $1 billion.
Seven Steps to Identify and Capture Your Value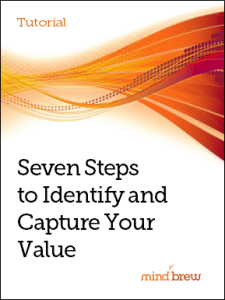 When it comes to value-based pricing, it's easy to get sidetracked by all of the apparent complexity. In this tutorial, learn the fundamental process steps that are crucial for success.
Influencing Internal Pricing Negotiations
In B2B, the most costly pricing negotiations often take place within the confines of our own organizations. In this guide, you'll learn the top 10 strategies for negotiating better pricing outcomes with others inside your company.
Seven Strategies for Boosting Margin Dollars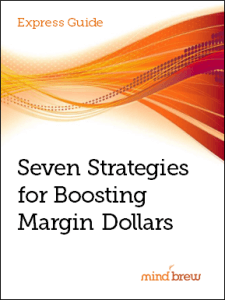 It's good to have a few strategies close at hand that are effective at boosting margin dollars without a lot of time and effort. This video guide explains seven simple solutions that can make a big difference to profitability.