Here are Some of The Many Resources In The Library
Underrated Pricing Technology Evaluation Criteria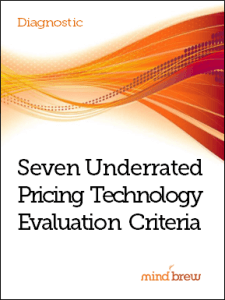 This 36-question diagnostic exposes and explains seven areas of pricing technology evaluation and comparison that are underrated, underutilized, and deserving of much greater consideration by prospective buyers.
Competitive Insights for More Strategic Pricing
To avoid unnecessary pricing battles, you need to have a deep understanding of your competitors and their approaches to pricing. This guide shows you how to gain the strategic insights you need.
How to Prevent Margin Meltdowns in the Field
When your salespeople adopt better pricing and discounting habits, your strategies can become much more powerful than they were on paper. In this tutorial, learn seven real-world strategies and tactics for getting B2B salespeople to price and discount more effectively.
Seven Steps to Identify and Capture Your Value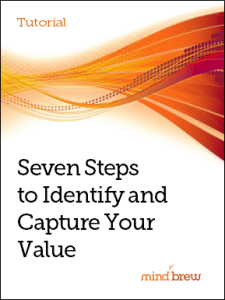 When it comes to value-based pricing, it's easy to get sidetracked by all of the apparent complexity. In this tutorial, learn the fundamental process steps that are crucial for success.
Three Types of Buyers That Don't Buy on Price
Research says that 60-70% of buyers aren't price buyers---lower your price for them and you just give margin away. Learn how to identify the types of buyers where additional discounts won't help you win the business.
Identifying the Right Unit of Value for Pricing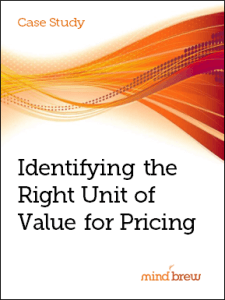 Simple pricing structures can hurt revenues and profits when they fail to align customer value and costs. This case study demonstrates how to identify the right "unit of value" for both pricing and costing purposes.
Identifying Three Types of Customer Defection
This video guide shows how to identify the early signs of three costly types of customer defection and how to take action before it's too late to turn it around.
Getting Started in B2B Pricing
This 8-part course focuses on the critical concepts that B2B pricing professionals need to know. Whether you're trying to figure out where to begin or just want to ensure everyone on your team understands the fundamentals, this course can help.
Four Ways to Be More Strategic In Pricing
In pricing, it's all too easy to get lost in all of the administrative tasks and tactical activities. This guide outlines four areas of focus that can help you become a much more strategic pricing professional.
Can You Benefit from Better Deal Management?
Horror stories of unprofitable or poorly managed deals seem to be all too common in B2B. In this guide by Elliot Yama, learn the common causes of bad deals and four signs that your deal management process is lacking.
How Strict Pricing Enforcement Killed a Product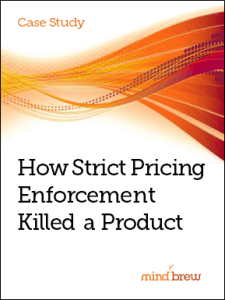 Strict enforcement of pricing policies can seem like a great idea. But this comical case study sheds some light on the perils of enforcing policies that are lacking (and somewhat ridiculous).
17 Customer Insights for More Strategic Pricing
Having a better understanding of your buyers can help make profitable pricing outcomes the natural result. This guide reveals 17 powerful customer insights that are proven to be beneficial for creating advantageous pricing conditions.
Three Core Pricing Skills That No One Talks About
For many B2B companies, increasing knowledge around pricing is a priority. But this education regularly ignores skills that are critically important. In this guide, learn about three areas that are often overlooked.
Finding Margin Leaks in Your Sales Processes
Every sale is the result of a process. With any process, the quality of the final product is determined by the raw materials. This diagnostic helps improve pricing results by identifying root causes in your sales processes.
Influencing Internal Pricing Negotiations
In B2B, the most costly pricing negotiations often take place within the confines of our own organizations. In this guide, you'll learn the top 10 strategies for negotiating better pricing outcomes with others inside your company.