Here are Some of The Many Resources In The Library
How to Prevent Margin Meltdowns in the Field
When your salespeople adopt better pricing and discounting habits, your strategies can become much more powerful than they were on paper. In this tutorial, learn seven real-world strategies and tactics for getting B2B salespeople to price and discount more effectively.
Getting Beyond Pricing to Make a Real Impact
To be effective in B2B pricing, you have to be able influence all of the different functional groups involved. This guide exposes how to influence the upstream decisions that can ultimately make or break your pricing efforts.
Combating Competitive Pricing Pressure
Pricing pressure is just a fact of life. But how well you handle that pressure can determine whether your business ultimately succeeds or fails. This guide exposes 15 ways to address (and prepare for) competitive pricing pressure.
Using a Cost-Plus Mindset to Your Advantage
An edgy case study that exposes how one company got "creative" to improve profitability without having to change their sales team's ingrained cost-plus pricing behaviors.
Getting Started in B2B Pricing
This 8-part course focuses on the critical concepts that B2B pricing professionals need to know. Whether you're trying to figure out where to begin or just want to ensure everyone on your team understands the fundamentals, this course can help.
Managing Your "Minimum Advertised Price"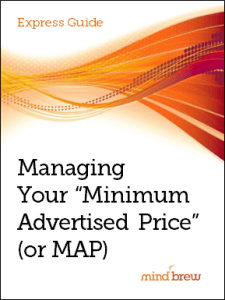 Many manufacturers have augmented their channel strategies with MAP (Minimum Advertised Price) policies. While not a panacea, MAP policies can mitigate many channel control and conflict issues. In this guide, we expose 20 strategies and tactics for more effective MAP policies and programs.
Suffering from a Costly Case of Sticker Shock
In B2B environments where discounting is habitual, it's easy to think that your list prices don't really matter all that much. But before you conclude that list prices are inconsequential in your business, consider this case of a B2B reseller who just couldn't see what they were missing.
Tweaking Your Sales Strategy to Improve Prices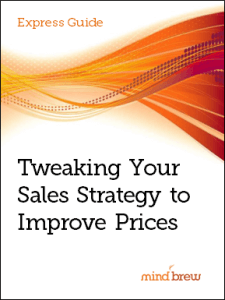 A well thought-out strategy can reduce pricing pressure and increase deal velocity. This guide explains how relatively small adjustments to your sales strategy in a few high-leverage areas can combine and compound to produce dramatic results.
Exposing Your Differential Value Step-by-Step
This tutorial cuts through the apparent complexity of value-based pricing to provide simplified, step-by-step process for understanding and exposing the differential value of your offerings.
Seven Steps to Identify and Capture Your Value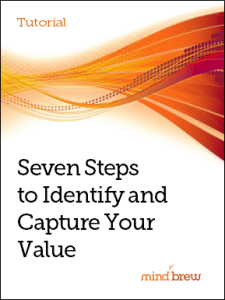 When it comes to value-based pricing, it's easy to get sidetracked by all of the apparent complexity. In this tutorial, learn the fundamental process steps that are crucial for success.
Avoiding Mistakes in Customer Profitability Management
For most B2B companies, it's important to maximize the value of every customer you get. But customer profitability management is full of land mines that need to be avoided.
Visualizing Data to See the Trees in the Forest
Walter Paczkowski on harnessing the power of data visualization to explore and explain the causes of margin leakage.
Using The "Measurement Effect" to Improve Margins
When it comes to finding problems or failings with pricing and discounting, the sales department is a prime target. But the relatively simple effort of getting your own house in order can have a positive influence on pricing outcomes.
Avoiding Five Margin-Killing MarCom Mistakes
A guide to common marketing communication mistakes that reduce your perceived value and pricing power.
Driving Strategic Decisions with Pricing Analytics
Most often, pricing analytics are only used to evaluate specific deals, identify pricing outliers, and measure price performance over time. But in the right hands, armed with the right questions, pricing analytics can serve a much more strategic purpose.