Here are Some of The Many Resources In The Library
How Customers Evaluate a Price
Customers aren't as logical in understanding value and assessing a price as you might think. In this guide, Mark Dresdner exposes eight factors that play an important role when a potential customer evaluates your prices.
How to Avoid Sales Compensation Gotchas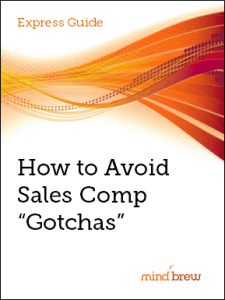 While no variable comp approach is ever perfect, you stand a much better chance when you minimize the unintended consequences. This guide exposes the problems with various schemes and explores potential solutions.
Underrated Pricing Technology Evaluation Criteria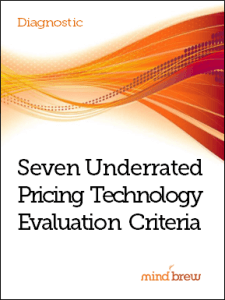 This 36-question diagnostic exposes and explains seven areas of pricing technology evaluation and comparison that are underrated, underutilized, and deserving of much greater consideration by prospective buyers.
Avoiding Five Margin-Killing MarCom Mistakes
A guide to common marketing communication mistakes that reduce your perceived value and pricing power.
Ten Signs Your Pricing Strategy Stinks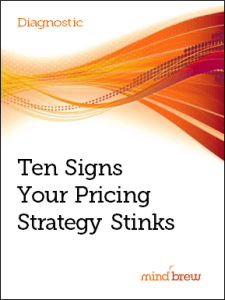 There are so many factors at play in pricing that it can be difficult to know if your strategy is really effective or not. This simple self-assessment can help determine whether the odds are for or against your pricing strategy.
Finding Margin Leaks in Your Sales Processes
Every sale is the result of a process. With any process, the quality of the final product is determined by the raw materials. This diagnostic helps improve pricing results by identifying root causes in your sales processes.
How Technology Can Pay You & Your Company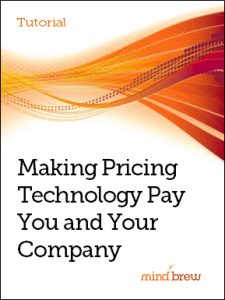 A successful pricing technology initiative can do wonders for your company's bottom line as well as the trajectory of your career. In this tutorial, learn the 4 key steps to take and the 5 land mines to avoid.
Driving Strategic Decisions with Pricing Analytics
Most often, pricing analytics are only used to evaluate specific deals, identify pricing outliers, and measure price performance over time. But in the right hands, armed with the right questions, pricing analytics can serve a much more strategic purpose.
How to Get More Aligned With Sales
Taking a purposeful approach toward aligning more closely with the sales team can reap great rewards for pricing results. Learn five straightforward steps toward fostering a better working relationship with integrity.
Six Price Optimization Misconceptions Exposed
Price optimization can provide a significant competitive advantage for the companies that have adopted it. This guide explores the mistaken beliefs that could be costing you sales & margin dollars.
Influencing Internal Pricing Negotiations
In B2B, the most costly pricing negotiations often take place within the confines of our own organizations. In this guide, you'll learn the top 10 strategies for negotiating better pricing outcomes with others inside your company.
Step-by-Step Marketing Research for Strategic Pricing
In this step-by-step tutorial, learn how to conduct marketing research---the only reliable way to gain the meaningful and actionable insights you need for effective strategic pricing.
Can You Benefit from Better Deal Management?
Horror stories of unprofitable or poorly managed deals seem to be all too common in B2B. In this guide by Elliot Yama, learn the common causes of bad deals and four signs that your deal management process is lacking.
The Anatomy of a Successful B2B Pricing Analyst
What key competencies are most important for a B2B pricing analyst to have? This guide covers PricingBrew Network research into the 21 most important attributes, skills, and capabilities for B2B pricing analysts to develop or possess.
Preventing Bad Deals Before They Happen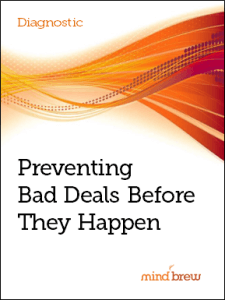 Thanks to analytical toolsets, it's easy to identify deals that weren't priced properly. But after-the-fact corrective actions do little to prevent outliers from happening again. This diagnostic shows you how to uncover and address the true root causes behind bad deals.