More than half of the B2B companies we surveyed told us that their sales compensation was based solely on revenue.
If your organization is one of them, you've probably experienced some frustration when trying to get your sales group to implement your pricing strategies. Even if your salespeople really want to be team players, when push comes to shove, they're going to do what is in their own best interest. And if they are compensated solely on revenue, their best interest will often mean offering a discount in order to secure a sale.
The obvious solution to this problem is to change your sale compensation plan.
If instead of being compensated solely based on revenue, your sales team is paid in part based on margins and/or price attainment, they will suddenly have a vested interest in making sure they get the best price they can. And that can make a huge improvement in margins and net income. In fact, changing your pricing compensation plan is one of the most effective ways to improve your company's pricing.
But B2B firms almost never change their compensation plans.
The minute you start fiddling with the pay arrangement, salespeople are going to get upset. And managers and executives seem to live in dread of upsetting sales. At many companies, the sales compensation plan has become the "third rail" that no one wants to touch. The net result, of course, is that the sales team continues to price as they see fit instead of following the company's pricing strategy.
We're here to tell you that you don't need to be afraid of changing the sales comp plan.
You do need to be cautious. You do need to be careful. You do need to go slowly. And you do need to get buy-in from sales.
But if your current sales plan isn't meeting your needs, you can—and should—change it.
We recommend that organizations follow a simple, six-step process for updating their sales compensation strategy:
Secure management support for including something beyond sales revenue.
Collaborate with sales at every step to gain buy-in, aid adoption, and minimize rework.
Be realistic about the approach you take and look for unintended consequences.
Whatever you choose to do, plan to deliver it to salespeople at the point-of-sale.
Start small—work the bugs out, get people comfortable, etc.—then grow from there.
Make sure you've established your baselines so you can measure the improvements.
While following this process won't guarantee that you won't run into any problems, it makes it a whole lot more likely that things will go smoothly.
You can find a lot more tips about improving your pay structure in the webinar Revamping Sales Comp to Improve Pricing. It examines those six steps in greater detail and analyzes the pros and cons of various compensation strategies. It's a great place to start if you're thinking about moving away from a comp plan based solely on revenue.
Revamping Sales Comp to Improve Pricing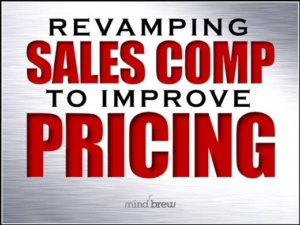 In this on-demand webinar, you'll learn about the pros and cons of various approaches for infusing pricing performance into your sales compensation plan to reduce unnecessary discounting and boost profitability.