Over the years, we've had the privilege to work and interact with a lot of different pricing teams. As a result of that experience, we've been able to develop a simple test that can tell you whether your team is doing the right things or not. The test only takes 10–15 minutes, but it's extremely accurate at pinpointing how evolved your pricing team is.
Of course, the thousands of B2B companies we interact with are all trying to improve their pricing. And, naturally, most pricing teams are born out of a desire to improve their pricing. The company puts some pricing people in place and these people will develop the necessary pricing processes and practices. Often they start by using spreadsheets and manual analysis to get a handle on things, but the focus is on bringing efficiency to processes that were rudimentary before…or didn't even exist.
This focus on efficiency usually helps improve pricing, but the benefits can plateau over time. Eventually, pricing teams come to realize that they could do other things that would be more helpful. Instead of just focusing on efficiency, they look to instill pricing best practices across the company and focus on reducing the dependence on manual processes. Ultimately, they concentrate on effectiveness and not efficiency.
This difference between efficiency and effectiveness is really at the heart of our pricing test. Efficiency is all about streamlining your pricing processes, while effectiveness is about helping our sales team win more deals at higher margins. And in the long run, an effectiveness focus has a much bigger impact on revenue and profits than efficiency.
We've found that we can judge where a pricing team is on the maturity lifecycle by calculating the percentage of their activities that are focused on efficiency and the percentage that are focused on effectiveness. Of course, you are never going to get rid of all the "efficiency" tasks. But over time, you should see that those efficiency tasks are a smaller and smaller piece of your job while effectiveness tasks get a lot more time and energy.
To give yourself the test, start by listing all the tasks you expect to do today. (Or if you don't think today is necessarily representative of what you usually do, you can list all your tasks for the week.)
Then go back and categorize your tasks based on whether they are focused on efficiency or effectiveness. You can sort them into different columns on a spreadsheet, or if you're a pen-and-paper kind of person, you can use different colored highlighters for the two categories.
With either method, it should be pretty obvious whether you have more in the efficiency category or more in the effectiveness category. If you're doing more efficiency tasks, it's a sign that you are still pretty early in the maturity cycle. It's time to start looking for some things you could be doing that would have a bigger impact on your company's bottom line.
And if you have a much longer effectiveness list than an efficiency list, congratulations! But that doesn't mean that the hard work is over. It just means that you understand how much work there is to do and how much you could accomplish. For a good pricing team, the process of finding more ways to improve effectiveness never ends.
Once you've done the test for yourself, you can also go back and re-take the test from the perspective of your entire team. You can also list tasks for an entire month or an entire quarter. That can give you the big picture view of how the team is doing overall.
For some of you, this dichotomy between efficiency and effectiveness is a brand-new concept, and you might have some difficulty categorizing your list. If you find yourself in that position, we recommend taking a look at two of our on-demand webinars: Powerhouse Pricing Teams and Developing a Winning Roadmap for Pricing Success.
No matter where you are in the maturity cycle or whether you passed or failed our little test, the advice from these resources can help you move closer to more revenue and margin.
Powerhouse Pricing Teams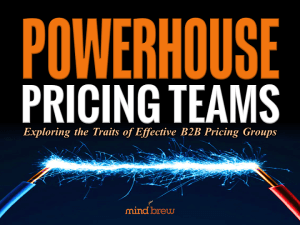 In B2B, dedicated pricing teams are still a relatively new development. And as such, there are no long-standing rules for how everything should work. In this on-demand webinar, explore the common traits, characteristics, and behaviors of successful pricing teams that have been around longer than most.
Developing a Winning Roadmap for Pricing
From our research, leading pricing functions go through key evolutionary phases in becoming more effective and strategic. In this 3-part training webinar, learn how to develop a roadmap that streamlines that evolution with a plan to be a more valuable and strategic function.