There's a challenging conundrum for anyone involved in pricing negotiations–especially salespeople. The conundrum? It's almost impossible to tell whether they're actually any good at negotiating. Imagine the scenarios:
If a deal was won:
Did the salesperson really get the best possible price and terms?
Or did they actually leave money on the table?
If a deal was lost:
Did the salesperson never really have a chance to win?
Or was there actually a way they could have closed the deal?
No matter the scenario, it's rare to be able to get the truth from the person on the other side of the table afterward and learn what they were actually willing and able to do. And psychologically, absent any evidence to the contrary, most salespeople will likely assume that the negotiation couldn't have played out any differently. It's in their nature (like most of us) to want to believe they did the best they could.
It's certainly a catch-22. But what's the best way to combat it? Ensure your salespeople have formal training in negotiation and pricing. Don't make it optional–the catch-22 means they likely think they're doing a great job, even when they could be doing better.
Learn best practices to improving your sales teams' pricing skills from these on-demand webinars:
Exposing the Secrets of Price Negotiation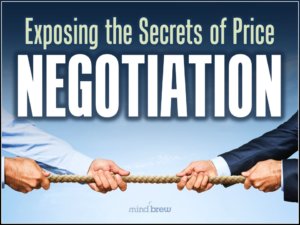 How do you protect your margins when your sellers are so outmatched? How do you keep them from falling for every trick in the book? And what does your pricing team need to know to provide another layer of protection?
Getting Your Salespeople to Price Better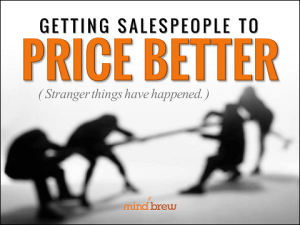 Chances are, the behavior of your salespeople will ultimately determine whether your pricing strategies are effective or not. In this on-demand training seminar, learn proven approaches and strategies for getting your sales team to price and discount far more effectively.