A few weeks ago, a leading pricing technology company asked us to share some of our observations and research with their audience. The event was a lot of fun and we were pleased to see so many of our subscribers also in attendance!
In the hour-long session, we discussed a number of important trends we've identified from our rather unique vantage point, including:
The growing capabilities gap between salespeople and the procurement professionals that they're negotiating with, directly or indirectly.
The increasing accessibility to technologies which can enable smaller companies to "leapfrog" the pricing capabilities of their larger competitors.
The dramatic changes in buying behavior that are shifting the ability to influence value perceptions away from salespeople and toward marketing.
The customer retention and expansion imperative that is finally on many management radar screens and getting more than just lip service.
The market uncertainty and volatility that can no longer be viewed as temporary and must become a new baseline for all future-lo planning.
I will admit that some of these trends probably seem quite daunting. And certainly, when presented all at the same time, the motley mixture can make it seem as though absolutely everything is working against you.
But here's the thing…everything has always been working against you. You know that. It's the nature of the beast and it's nothing new.
It's important to recognize that these things are trends and not events. None of these things is happening overnight. Yes, some of these trends have been underway for a number of years, but it's not like you don't have time to adjust and adapt.
So…you're standing on a freeway with five lanes of traffic headed straight for you…but the headlights are a mile away and you've got lots of room to move!
You see, it's not really the trends that matter—because there will always be trends working against you. What really matters is how you respond. If you pretend the cars aren't coming, you're going to get run over. If you see the cars coming but choose to just stand there looking at your cell phone, you're going to get run over.
It's all about taking action. And as we explained in the session, there are some fairly straightforward actions you can take to avoid getting run over.
5 Pricing Trends You Can't Afford to Ignore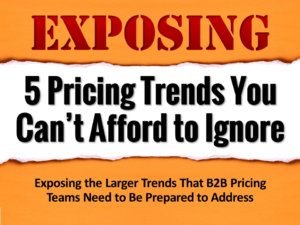 From our unique vantage point, we've identified a number of larger trends that pricing teams need to be prepared for. In this on-demand webinar, we explore five of these trends and discuss the implications and ramifications.