As bona fide geeks, we're big fans of the techy online comics at xkcd.com. Most of them are completely hilarious—especially if you work in tech.
But one of our favorite xkcd comics isn't really funny at all. It looks like this: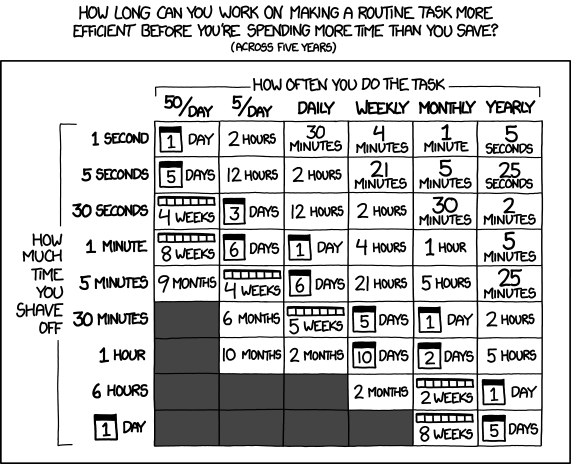 It visually demonstrates how much time automation can save you on different kinds of tasks over five years. This simple chart is an excellent guide to figuring out whether or not the time it takes to automate a given task is worth it or not. For example, if you can shave 1 minute off of a task you do every week, it's worth spending 4 hours on making it more efficient. On the other hand, if it's going to take five hours to shave 30 minutes of a task you do once a year, it's definitely not worth it.
As helpful as this chart is, it doesn't really get into the nitty gritty of what we need to know as pricing professionals. For example, how long will it take to make your pricing segmentation model more granular? And will the pricing gains be worth the amount of time that you spend? Should you take the time to install new technology and train your team? Will it be worth the investment for the sales team to get some negotiating training? How many deals should the pricing team be reviewing and how many should the sales team handle on their own?
These questions are really hard to answer—even for experienced B2B pricing experts.
Fortunately, PricingBrew has done a ton of research into which activities and process improvements are likely to yield the biggest gains. We've talked to B2B pricing teams of all sizes in a host of different industries to figure out which tips are applicable for just a few teams and which are relevant across the profession.
We collected most of these tips into the webinar Pricing Productivity Boosters It's full of strategies that can help identify the timewasters and eliminate busywork so you and your pricing team can be more productive with the resources you have. It also explains where to focus to make the biggest impact, and it suggests mindsets and organizational structures that have proven to be more effective.
When you're ready to take the next step, check out From Tactical to Strategic Pricing. It can help you move beyond the simple tips and tricks to becoming a much more thoughtful, big picture-oriented team. It also covers how to create space for strategic endeavors and how to prioritize your current initiatives. Strategic thinking is what separates great B2B pricing teams from good B2B pricing teams, and it's really the only way to create a best-in-class team.
And with all the time you're going to save once you become highly efficient, you might even have a little more time to spend browsing through xkcd. We could all use some laughs right now, and you're almost guaranteed to find something to tickle your funny bone there.
Pricing Productivity Boosters
B2B pricing functions have never been overflowing with resources, money, or time. Nevertheless, most pricing teams are now being asked to do even more with even less. So how do we make the most of what we've got?
From Tactical to Strategic Pricing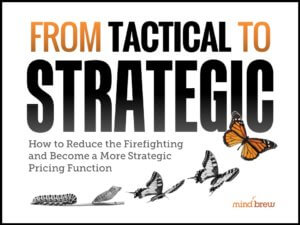 Some teams are so mired in tactical grunt work and daily firefights that they never make progress on strategic pursuits. How have other pricing teams transitioned into more strategic functions? What steps did they take?