Billionaire investor Warren Buffett has said, "Risk comes from not knowing what you are doing." And it's certainly true that in the pricing profession, great risk comes from hiring people who don't know what they are doing.
We have a list of eight technical areas that any pricing professional should understand:
Price Segmentation: In B2B pricing, being able to create an effective segmentation model and finetune it as necessary is absolutely essential. Without this capability, companies will never be able to maximize revenues and margins.
Scenario Analysis: If you raise prices, what will happen? If you lower them, what will happen? A good pricing professional not only intuitively understands cause and effect, he or she can use the appropriate formulas to determine mathematically the likely business outcomes for a certain course of action.
Testing/Validation: Good pricing practitioners paid attention in science classes when the teacher talked about creating a hypothesis and testing it. They understand how to structure test-and-control studies, conduct pricing research studies, do linear uplift tests, and analyze the data that those tests produce.
Data Management: Speaking of data, pricing professionals also need to understand principles like data cleansing, augmentation, manipulation, concatenation, database architectures, etc. They don't need to be full-fledged data scientists, but they should be able to tell if they are working with valid data without having to take IT's word for it.
Data Visualization: A picture is always worth a thousand words. Great visualizations help pricing pros find the answers they are looking for, and they also make it easier to communicate ideas with other people in the company.
Value Estimation: Pricing isn't just about hard numbers. Pricers also need to be able to put themselves in the customers' shoes and see what type of value a particular product or service is offering from the customers' point of view. From there, they can help set appropriate value-based prices.
Statistical Methods: You might not need to rely on the things you learned in that one college statistics class you took every day, but you will need to call up that knowledge from time to time. Pricing practitioners should understand the general principles of statistical analysis.
Cost Analysis: While we don't want pricing folks to get so caught up in cost analysis that they fall back into cost-plus pricing habits, you do need to understand the basics of different variable/fixed/semi-fixed structures, internal transfer pricing decisions, allocation decisions and formulas, unit volume cost breaks, and so on.
The important thing to note about all these technical skills is that they are all things that can be taught. They are also all things that are easy to evaluate in a job interview. If you're hiring for an open position, it's a good idea to make sure job candidates have this "table stakes" level of knowledge. And if you're looking for a job, it's a good idea to refresh yourself on any concepts where you don't feel confident.
But what really separates pricing superstars from the also-rans are soft skills and personality attributes. Check out The Anatomy of a Successful B2B Pricing Analyst for a fuller discussion of all the necessary attributes for a successful pricing career. Also, the webinar Assessing Your Pricing Capabilities can help you figure out where you and your team excel and where you really need to improve your abilities.
The Anatomy of a Successful B2B Pricing Analyst
What key competencies are most important for a B2B pricing analyst to have? This guide covers PricingBrew Network research into the 21 most important attributes, skills, and capabilities for B2B pricing analysts to develop or possess.
Assessing Your Pricing Capabilities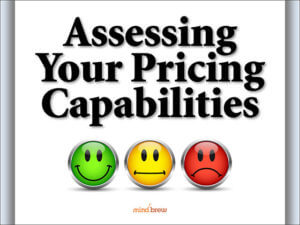 While you might think your pricing capabilities are pretty good, how do you really know? How can you tell? In this on-demand webinar, learn how to leverage "3 P" assessments to figure out where you're at and where you need to improve.