I know I've told this story before, but it bears repeating right now…
I grew up on a farm. At the time, I didn't like it very much at all. While most of my friends were playing video games, watching MTV, and skateboarding, I was running a tractor, feeding cows, fixing fences, and irrigating crops.
But looking back now, I wouldn't trade the experience for anything—because it taught me so much. Here's just one example…
Every so often, one of us kids would forget to close a barn door and we'd later see some adventurous cows wandering around where they shouldn't be. The first thing Dad taught us to do when this happened? Close the barn door! After all, you don't want the rest of the cows getting out while you're rounding up the strays. It's a very simple lesson that has served me well ever since.
In the "How to Avoid Pricing Panic" webinar, we discuss a similar concept of pricing triage.
When the dynamics in your market are changing rapidly, there may be dozens of things competing for your immediate focus and attention—i.e. lots of stray cows wandering around, eating your flowers and trampling your garden. But while it's tempting to focus on roping the strays, the first thing you want to think about is closing any open barn doors.
Let's say an earthquake on the other side of the planet has suddenly shut down all the major suppliers of a certain component or sub-assembly. Or let's imagine that a big international trade negotiation has gone sideways overnight, unleashing a torrent of new tariffs and sanctions. Or maybe some new illness is spreading and wreaking havoc on markets across the board (I know that's really hard to imagine, but try).
Whatever the cause, you know that the supply and demand dynamics are going to be dramatically different tomorrow than they are today.
Your replacement costs will likely skyrocket. All the materials you need may not even be available…at any cost. Customers who are paying attention might try to protect themselves by buying 2-10 times their normal volume. And certain brokers and other arbitrage players may even try to clean you out altogether!
So how do you close the barn doors? In the webinar, we share a number of strategies and tactics others have employed, including:
Immediately canceling all outstanding quotes.
Cutting the "good for" time on all new quotes.
Restricting order volumes to historical norms.
Reducing allowable e-commerce volumes.
Lowering the thresholds for routing/approval.
Restricting sales to new or sporadic customers.
Halting sales to certain segments altogether.
While many of these strategies and tactics will likely seem pretty draconian to the uninitiated, people who've been through a few of these "major market disruptions" can attest to their efficacy. And, not knowing the ultimate duration or magnitude of the disruption, it often pays to be a bit tougher in the early stages.
Of course, it should go without saying that you'll also want to adjust your prices to reflect the new dynamics. But to do that properly will take some time. Not a lot of time, hopefully, but time nevertheless. And in the meantime, there are other barn doors that may need to be closed.
How to Avoid Pricing Panic
How should you respond when something disruptive happens in your market? How do you avoid overreaction? How do you balance speedy action with smart action? And how do you prepare for the next disruption?
The Fundamentals of Pricing Intelligence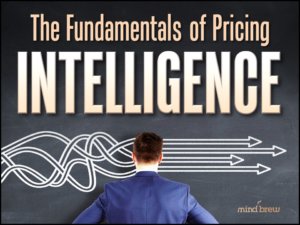 In pricing, it's easy to feel like you're making decisions in a vacuum. But there are many powerful sources of pricing intelligence you can leverage. In this on-demand webinar, learn how to design and implement systems for tapping into those sources of intelligence and how best to respond.
Survival Strategies for Raising Prices
In this on-demand training seminar, learn why some B2B companies struggle with price increases while others are able to do it with far less pain and angst. What are leading companies doing differently to execute price increases with far less risk, conflict, and uncertainty?