For most B2B job roles, it's pretty easy to find candidates with the exact qualifications you need.
For example, a quick search on one of the major online job boards turned up an open position in the accounting department for a software company in my area with the following requirements:
Bachelor's degree or higher
CPA preferred
7+ years of accounting experience, preferably in the technology industry
Experience using financial computer software such as Sage Intacct, ADP and Concur
Excellent interpersonal and communication skills
Thorough knowledge of accountancy
Ability to work long hours and a flexible schedule
High stress tolerance
Those seem like some very demanding requirements. But the software company apparently feels fairly confident that they will get someone with those qualifications who is willing to work for $90,000 – $110,000.
But the same isn't true for pricing positions. When I searched for "pricing" on the same job board, the first job listed (which happened to be a B2B position) was looking for someone with
Minimum of 1+ years of work experience
Strong interpersonal and communication skills, with an outgoing and highly motivated personality
Strong Microsoft Excel, PowerPoint and Word skills
Prior experience with running SQL queries or Power BI preferred
BA/BS degree from a four-year college or university
They didn't care if you had worked in their industry or even in B2B or what your degree was in. If you've done some data analysis and had a job of any kind, that was good enough.
The disparity between those two postings illustrates the difficulty in finding experienced pricing people. While you might be able to hire a marketing guru or sales superstar or a genius of finance, you are not going to be able to build an expert pricing group just by hiring people — there just aren't that many B2B pricing experts out there.
In fact, no matter who you hire, you're going to need to invest in ongoing personal development.
Why? Three reasons:
No pricing practitioner knows it all. Almost no one has a degree in pricing, and the discipline doesn't even have generally accepted standards and principles like those you find in professions like accounting. That means everyone needs to fill some knowledge gaps.
Pricing practitioners don't have the luxury of relying on trial and error. In marketing, for example, professionals regularly conduct A/B testing to figure out what works and what doesn't. But pricing — particularly B2B pricing — can't afford to make any big mistakes. You don't get a second chance to redo a bad pricing decision; the sales and margins are gone forever. Pricing pros need regular training to hone their business acumen so that they can make the best decisions possible.
Best practices are always changing. Pricing is still a relatively young discipline, and the "state of the art" is constantly evolving. Best practices are only "best" until something better comes along. You need training to help you keep up with the latest trends and research.
Professional development is an absolute necessity for pricing practitioners, and we'd like to humbly suggest that PricingBrew is an excellent way to stay up-to-date in the field.
If you're looking for some resources to introduce you to some of the latest, greatest thinking in the field, check out Assessing Your Pricing Capabilities, 5 Pricing Trends You Can't Afford to Ignore, and Powerhouse Pricing Teams.
You can't hire your way into pricing greatness. But with PricingBrew, you can mold the staff you already have into a top-notch B2B pricing team.
Assessing Your Pricing Capabilities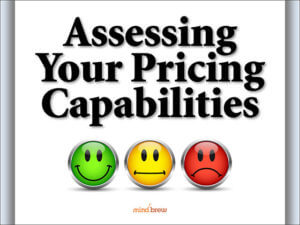 While you might think your pricing capabilities are pretty good, how do you really know? How can you tell? In this on-demand webinar, learn how to leverage "3 P" assessments to figure out where you're at and where you need to improve.
5 Pricing Trends You Can't Afford to Ignore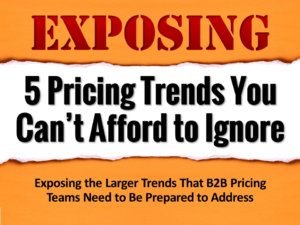 From our unique vantage point, we've identified a number of larger trends that pricing teams need to be prepared for. In this on-demand webinar, we explore five of these trends and discuss the implications and ramifications.
Powerhouse Pricing Teams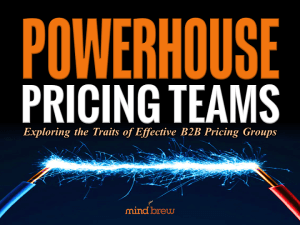 In B2B, dedicated pricing teams are still a relatively new development. And as such, there are no long-standing rules for how everything should work. In this on-demand webinar, explore the common traits, characteristics, and behaviors of successful pricing teams that have been around longer than most.