At PricingBrew, we spend most of our time researching what leading pricing teams are doing differently and sharing those findings, insights, and innovations with the rest of the PricingBrew Journal community.
That's what we do. That's our "raison d'être"…our reason for being.
But today, rather than talking about what the best-of-the-best ARE doing, I want to talk about a few things leading pricing teams ARE NOT doing. In fact, they're so deliberate about not doing these things that it would be fair to say that they actually refuse to do these things:
1. Leading teams refuse to be reactive.
Internally, leading pricing teams are very proactive about defining and driving the agenda. These teams aren't waiting to be told what to do, what their priorities should be, or where they should focus their energies. They figure out for themselves what needs to be done and where the biggest opportunities lie, and then work to get others in the company to share their perspectives.
Externally, leading pricing teams work very hard to anticipate changes in the overall economy, their specific industry or sector, and competitive dynamics. They aren't about to be blind-sided by an sector downturn or an uptick in material costs. Nor are they going to let their competitors push them in directions they don't want to go.
2. Leading teams refuse to stay in their box.
While many pricing teams are content to focus solely on tactical or transactional pricing, leading teams go wherever they can add value and generate more profit. If they need to get involved in new product development to make sure higher margins are being "baked" into the value proposition as early as possible, that's what they'll do. If they need to work with marketing communications to improve how the differential value cases are being communicated, they'll do that, too.
And if they see an opportunity to leverage their analytical skills toward another big profit driver…something like cross-sell analysis, for example…they'll add value there, too, knowing it can only bring them closer to the sales teams they're trying to positively influence.
3. Leading teams refuse to get comfortable.
Something I've noticed about leading pricing teams is that they never behave as though they're in a leadership position. Their pricing capabilities can be light years ahead of their nearest competitor and they'll still be pushing forward on that next initiative like they're the last runner in the race.
And the thing is, most of them know that they're way out in front. Most of them recognize that they could actually "coast" for quite some time and still be extremely competitive. But these teams just aren't wired that way. They're not content with "pricing administration" and are always striving to improve their capabilities and performance.
Learning to emulate what leading pricing teams are doing right is clearly an important and valuable endeavor. If we didn't believe that wholeheartedly, we'd never have created the PricingBrew Journal. That said, paying very close attention to what leading teams aren't doing…what they refuse to do…can also be extremely instructive and enlightening.
Powerhouse Pricing Teams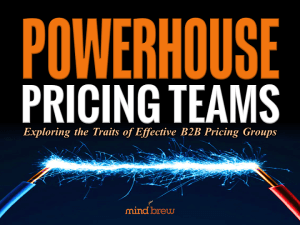 In B2B, dedicated pricing teams are still a relatively new development. And as such, there are no long-standing rules for how everything should work. In this on-demand webinar, explore the common traits, characteristics, and behaviors of successful pricing teams that have been around longer than most.
New Benchmarks for Pricing Excellence in B2B
In our research, we've identified ten areas where "best practices" have been redefined; setting new benchmarks for pricing excellence in B2B. Use this self-assessment to see how your capabilities measure up.
Avoiding the Top 10 Pricing Mistakes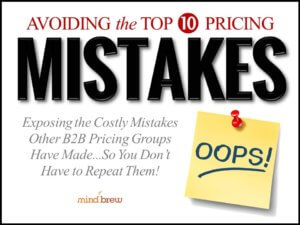 You're going to make mistakes. But if you can avoid the biggest mistakes, you're definitely rigging the game in your favor. In this on-demand webinar, learn about the top 10 mistakes that other pricing groups have made along the way.